When the ship cannot leave Nagasaki harbor and departure is canceled, a specialized guide will escort you on a tour to the Battleship Island by land.


*Only for customers coming by chartered bus


The Concierge's guides origins are diverse, and include people who formerly worked as miners on the Battleship Island or other coal mines. They are still so greedy for information that they will provide you rich and fresh explanations.
At first, the guide will get on your bus, and the tour will then begin, with the bus slowly directing toward the Nomozaki peninsula, having a look at the Nagasaki harbor...

The relation between the Battleship Island and Nomozaki or islands around as Takashima Island or Nakanoshima Island, the process of settling an underwater water pipeline from the continent, episodes of the island during its activity days...the guide will tell you everything you have to know, while watching at documentary videos and pictures.

Approaching Nomozaki, the "Couple Rock", a natural monument designated by the prefecture, will be visible along the sea halfway of the national road 499. The Battleship Island visible between the two rocks is one of the most magnificent view spots.
About 1 hour after departure, the bus will reach the Battleship Island Museum. You will also be able to do shopping at the Nomozaki product center, next to the museum.

The Battleship Museum is free of charge. You will be able to experience the lifetime of that time thanks to the 200 panels or other items presenting the island in both its activity time and at the present time.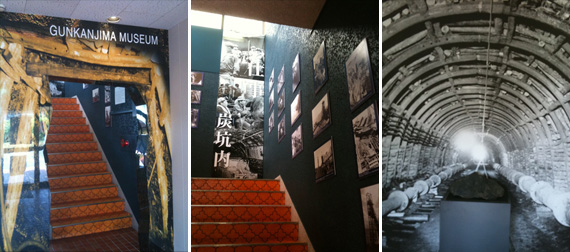 You will also have the opportunity to visit the nearby "land of the Narcisses". Narcisses bloom at the beginning of December, and the ocean view at the back of about ten million Narcisses surrounding you is very famous. In the middle of the ocean stands the Battleship Island; this is another fantastic view.
Going on is the Sea's Health Village. You will find there the spas of the cape, allowing adults to relax for 400 Yen, and children for 200 Yen. Hot water hitting your back, saunas, big bathhouses, you can relax while enjoying a fantastic ocean view. Fast food or lunches are also available.