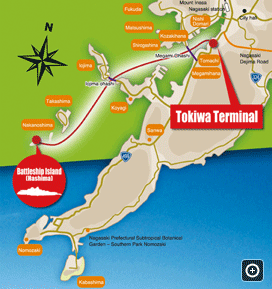 The Battleship Island (Hashima Island) stands ahead of the Ioujima, Takashima and Nakanoshima islands, about 40 minutes from the Nagasaki harbor by ship. By the land route, you will be able to watch at the Island with his battleship likely shape at the point of the Nomozaki peninsula, at the most southern part of the Nagasaki peninsula and which, is the nearest spot from the Hashima Island to watch it at. Also, there is a [Battleship Island Museum] in Nomozaki.
According to the local fishers, the waters around the Hashima Island are gorging with lots of fishes, and it is for them the best fishing spot, as much as the Goto Islands are.
The wave stream around the island is quite rough, and only a scarce blowing of the wind would be enough to have the waves got unleashed, so that navigate carefully is necessary. The Hashima Island's landing pier too has been entirely ravaged by typhoons, but this experience made inhabitants to reform the pier a few times, to what is now known as the "Dolphin pier".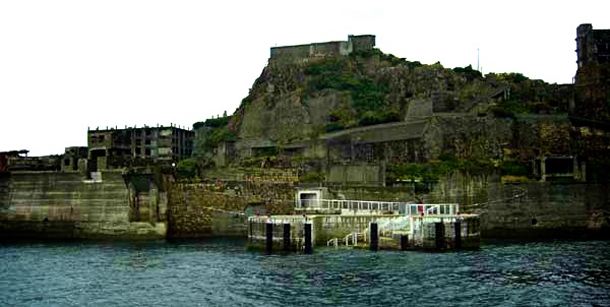 In order to make the landing possible to tourists, the originally constructed "Dolphin pier" has been sharpened out into a staircase, and then was modified to make possible ships to get on the shore and have passengers to get off and land in security, whether the waves were big or not. It is said landing on Gunkanjima is possible on about 100 days in the year. Also, considering the global condition of the sea usually noticed around the island, we can say that the period from November to March is the period during which landing would be the most difficult to accomplish. Even though the period from April to October is actually more oriented to landing than the winter period, there are still a numerous days on which landing will be impossible, because of the poor weather condition...