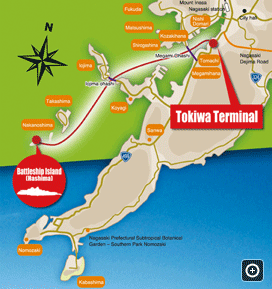 Gunkanjima (Hashima Island) is at a distance of 18.5 km by ship from Nagasaki Port and is located ahead of Iojima, Takashima, and Nakanoshima.
The shape of Gunkanjima looks like a "warship". By land, this island is nearest to Nomozaki Peninsula, the southernmost point of the Nagasaki Peninsula.
The surrounding sea area of Gunkanjima is also known as a treasure trove of fish for fishing. It's also a dreaming place of fishermen along Goto Island.
The tide flow here is rough due to the sea is nearby. Even in light wind, the aspect of the wave could be changed completely, so careful and safe sailing operation is required.
On Gunkanjima, the "Dolphin pier" was completed after several improvements, based on the experience of the concrete being damaged and swept away several times by the typhoon.